This is a basic guide on how to use the TOS scanner function. Begin by selecting the scan tab at the top of the screen. There are different types of scans that can be built from this platform, select the stock hacker scan on the left. This is where you enter the criteria to begin finding stocks to trade.

We will begin by adding volume criteria. By eliminating stocks trading minimal volume, we can start to narrow our search for an ideal stock trade. Click add filter on the left. Then click stock. Beside stock, use the dropdown menu to select volume. Now you can set your minimum volume allowance for your scan. For this example, we will search for stocks with at least 1,000,000 volume.

Next, we can add another filter. Click add filter, select stock again, then go to ask in the dropdown menu. Here you can enter a minimum and maximum price for the stocks you want to search. For this example, we are searching for stocks above 1,000,000 volume and above $1.00 per share.

The final filter to add for this example scan, select add filter just as before but this time select study. In the drop down, go to volume, and then select unusual volume. Here you can adjust the percentage change over a certain period. I have added 200% volume increase over the last 5 days. The pencil icon on the right will allow you to change to the timeframe desired.

Now that we have all of our inputs, we can click scan to find the all of the stocks that are trading more than 1mil volume, above $1 and their volume has increased 200% over the last 5 days. We return 41 stocks that meet this criteria.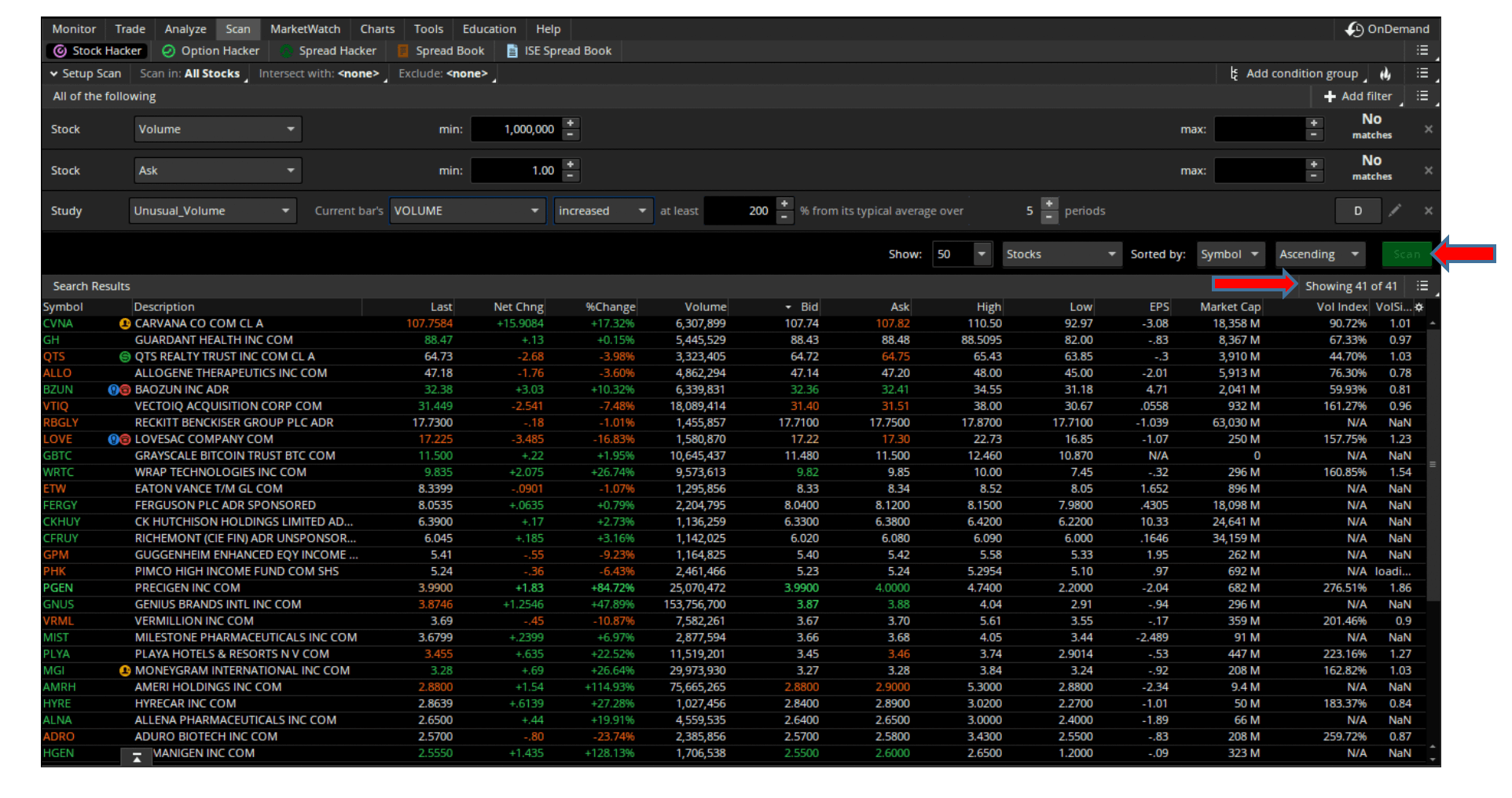 From here you can refine your results by clicking the top of each column to sort the stocks returned by the scan. This pictorial is for illustration purposes and you may need to alter the values used in order to better hone your scan.
Another useful function of the scanner is to choose where to scan. Along the top border, select the drop down for "Scan In:" Here you can search Top 10 gainers and losers, Pre and Post market movers, and even filter your scan by economic sector under the industry tab.

Take time to explore the various filters. Select add filter, click fundamental. Here you can search for stocks based on various company fundamentals such as earnings, revenue, dividend amounts, etc.

You can also sort stocks based on various candle formations. Select add filter and then pattern. You may then decide which formation and in what timeframe you want to look for.