The True Trading Group affiliate program is now live for ALL BETA SUBSCRIBERS! Here's how it works…
1. Log in to TTG

2. Once on the TTG Membership Dashboard click "Affiliates" link on the user menu side bar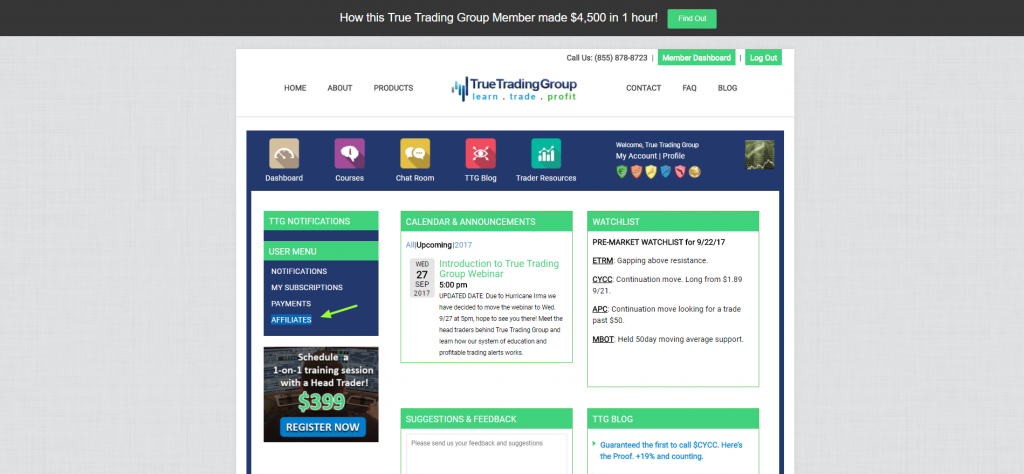 3. You will see one of 2 screens.
If you are not an affiliate you will see page with a green button saying, "Become an Affiliate" Click it. Once you do you will be taken to your "Affiliate Dashboard"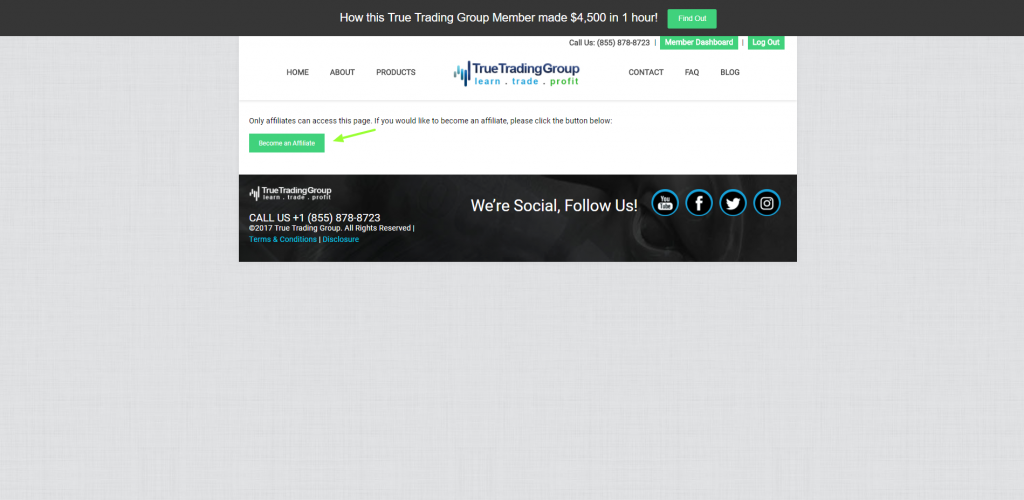 If you are already an affiliate you will see your "Affiliate Dashboard"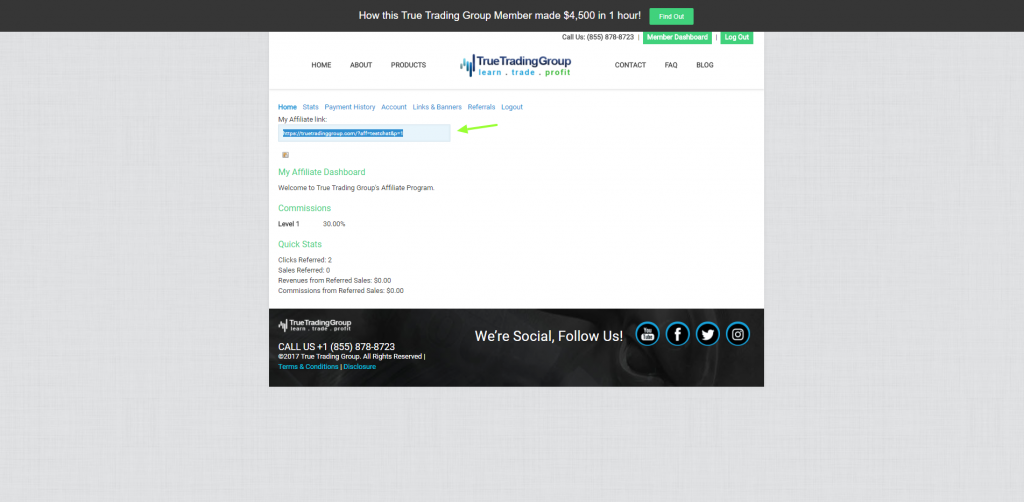 Once on your "Affiliate Dashboard" you will see you "My Affiliate Link". To get credit for a sale you MUST use that link when referring people to subscribe. If not, you will not be able to get credit for the sign up.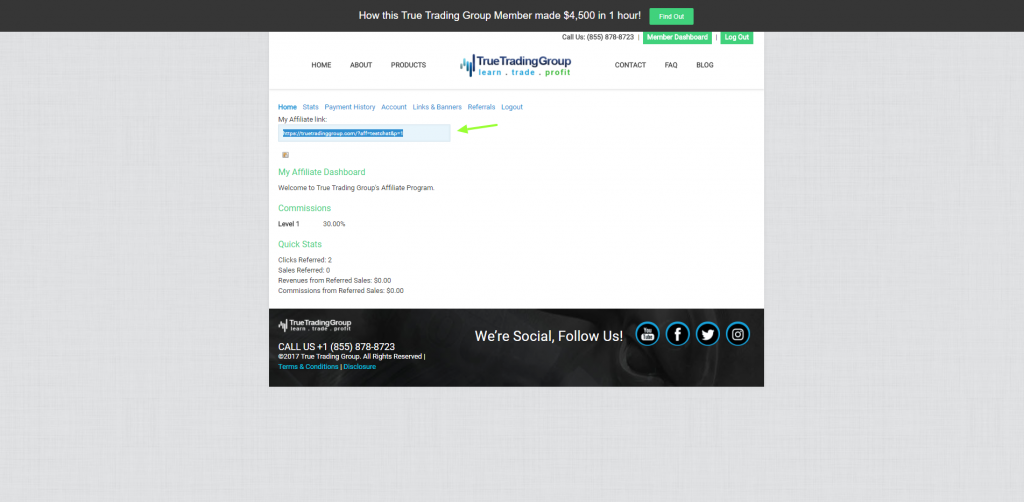 When you want to go back to your "Member Dashboard" click "Member Dashboard" top right of your screen.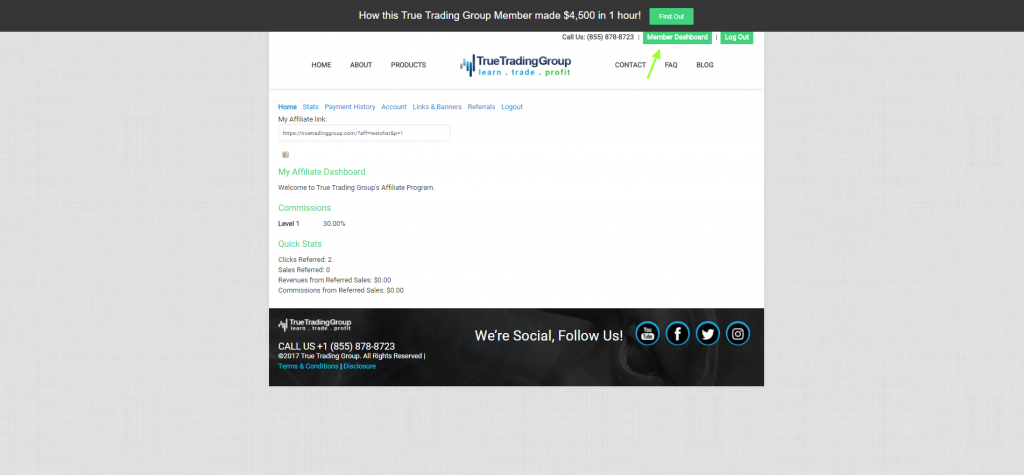 Once you're a TTG affiliate you will receive 30% of every person you get to sign up for the site & you will be paid on a residual basis, for example.
John Smith a current TTG member gets his friend Jane Doe to sign up by using his affiliate link, which is available in John Doe's affiliate dashboard. Jane now pays recurring subscription fee of $99.95 per month after the 1-month introductory period of $1.00. For every month Jane Doe is a TTG member paying $99.95 John Smith gets $29.95, on a residual basis.
Once John Doe reaches the set payment threshold of $100.00 he will receive either a PayPal payment wherein TTG covers all PayPal fees or direct ACH transfer. This means that an affiliate must have at least $100.00 in commissions to be paid. If John Doe only gets Jane Doe to sign up after 4 months John will receive $119.80 in commissions at which point the $100 payment threshold resets. However, if John Doe gets 4 people to sign up under his affiliate link he will receive $119.80 per month if his 4 referrals remain TTG members.
Right now, we are pushing traffic to the BETA sign up page only. We expect our public launch to commence in mid-October, we will confirm a date within the next week or so. We suggest you direct message your affiliate link, make it exclusive… we don't necessarily want 1000's of subscribers right now as we are still fine tuning everything in BETA. Once we do our public launch there will be plenty of new products to sell via your affiliate links as well as tons of creative assets we will provide for you to be successful. Ready to make some money with TTG? LET'S BEGIN!